A sunny midday saw the conclusion of the Girls CoMission Camp (Girls Connected for Mission) organized by Sabah Mission (SAB) Women's Ministries on Sunday, 13 November. This first-ever girls' camp was a three-day event that kickstarted on the morning of 11 November at SAB SDA Mission Headquarters Hall at Tamparuli. The event brought together 120 Adventist and non-Adventist girls aged between 12-17 years from 11 regions in Sabah, including participants from Sandakan, the east coast of Sabah, and Kudat, the northernmost region. One participant travelled from Selangor to join the camp. Forty-eight participants were from our sister mission school in Tamparuli and Goshen, Kota Marudu.
Guided by the Women's Ministries' mission focus on Nurturing, Empowering & Outreach (NEO), the program featured a dynamic lineup of speakers from MAUM and SAB namely Mrs. Faridah Lausin, Mr. Golden Gadoh, Pr. Earie Madius, Elder Daven Tanggau, Mrs. Dollie Juliet Gabrine, Pr. Helmy Hazel Baleh, Mrs. Meliana Amit, and Mrs Linda Lagason.
The camp's objectives centred around building a positive perspective, nurturing self-esteem, imparting vital life skills, and inspiring girls towards embracing the mission of witnessing for Christ. The first day of camp afforded the girls opportunities to get to know themselves and how they perceive their self-worth and esteem through temperament tests and workshops. These early modules paved the way for a transformative Reconnection session emphasizing their value as God's created and redeemed daughters.
Saturday night brought a fun bonding experience among the girls with a pyjama party and movie night. Sunday focused on practical life skills, covering conflict management, decision-making, stewardship, budgeting, finance, healthy diet, virtue, relationships, and dating. The Girls Prom Night on Sunday celebrated each participant as a special, precious, and loved daughter of God.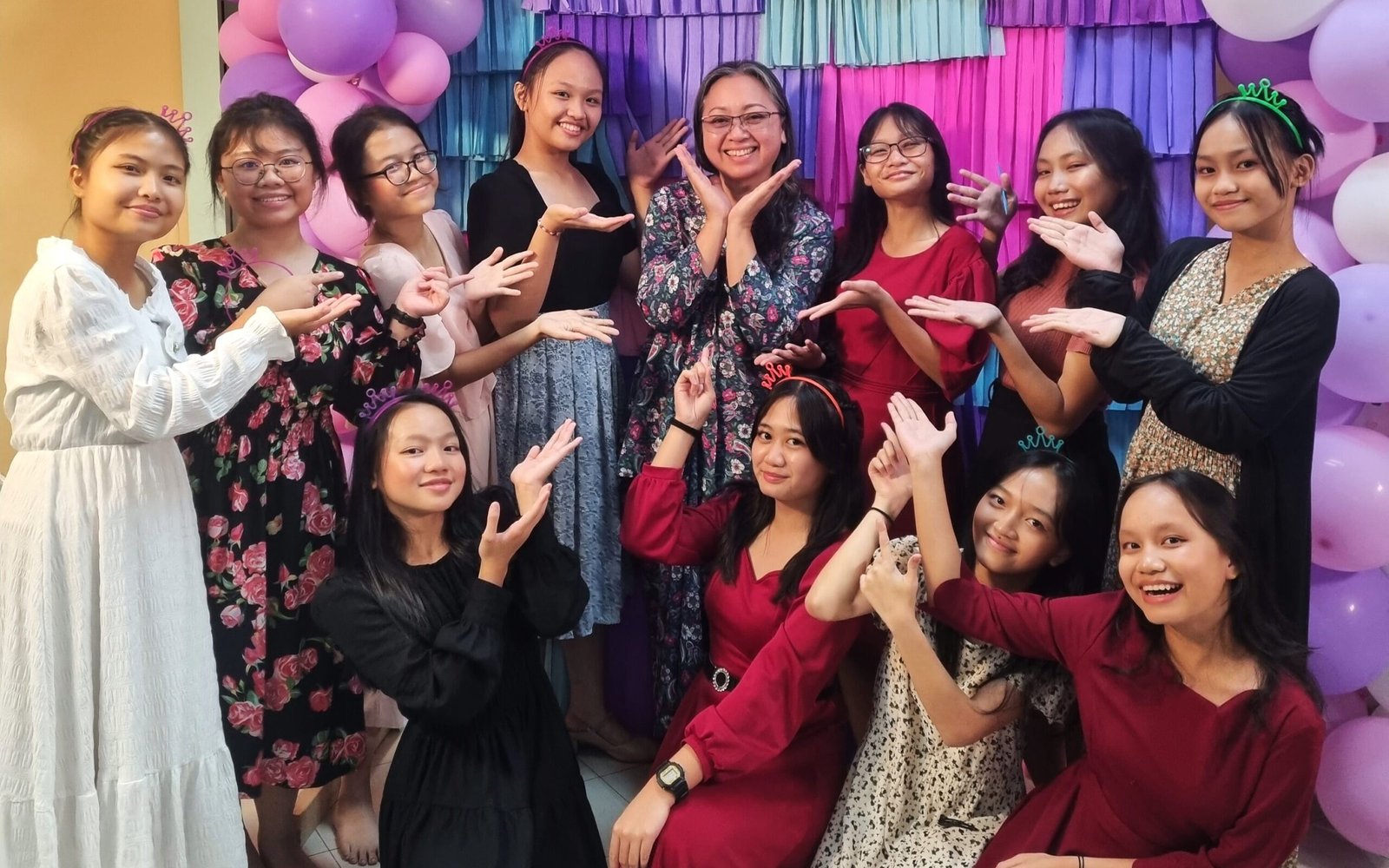 On the concluding day, Monday, the session emphasized on outreach. It started with a chalk walk devotional where girls wrote inspirational messages on the street. A module on belief and faith followed, and concluded with a content creation workshop, teaching the girls how to share empowering messages reflecting positive self-esteem.
A participant shared, "I learned many things and hope to come again next year." This comment echoed the gratitude for the camp's impact on the young girls. Parents picking up their daughters also voiced their appreciation, hoping that the Girls CoMission Camp would be a regular program by the Women's Ministries to prepare their girls for a better future.
Reported by Mrs. Linda Lagason, Sabah Mission, Director, Women's Ministry
16, November 2023, Thursday.