Malaysia Union Mission (MAUM) of the Seventh-day Adventist Church is one of the 13 regional offices of the Southern Asia-Pacific Division. It oversees the work of spreading the gospel in the country of Malaysia.
MAUM works with three regional headquarters called missions in the territories of Sabah, Sarawak, and Peninsular Malaysia. MAUM also oversees the work of 2 educational institutions, namely, Asia Pacific International University located in Thailand and Adventist College of Nursing in Penang, and the work of a medical institution, namely, Penang Adventist Hospital, (https://pah.com.my/). MAUM also governs the Home Health Education Services (HHES) which is located in Seremban 2, Negeri Sembilan.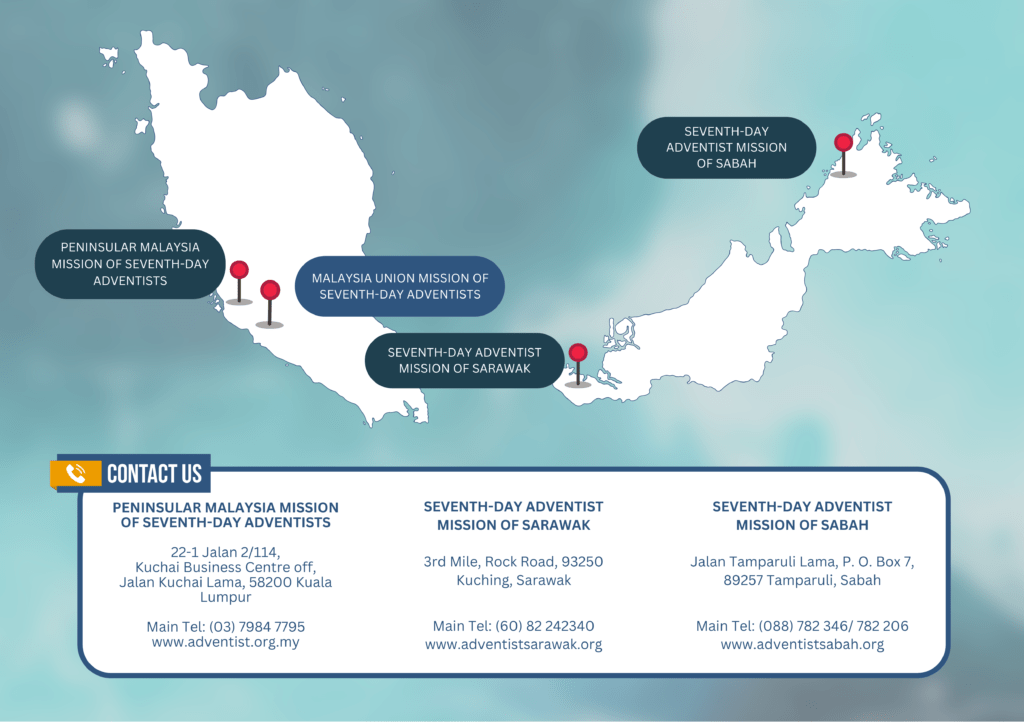 The territory of Malaysia has 13 states and 3 federal territories and a population of 33,57 million. The church continues its mission through a variety of ministries via 303 churches, with 181 pastors. Playing an important role in the steady growth of Adventism in Malaysia are the spirited collaborative work of pastors, workers, and members, the influence of medical and educational institutions, and the ministries of media.
Membership
To date, MAUM has a total baptized membership of 61,302. With a total population of more than 33 million for Malaysia, the ratio of baptized Adventist members to its population could be estimated at 1 Adventist for every 538 people.
History
The Malaysia Union Mission of Seventh-day Adventists (MAUM) was a territory under the former Southeast Asia Union Mission (SAUM), one of nine unions of the Southern Asia-Pacific Division (SSD). The Southeast Asia Union Mission was organized in 1917 and reorganized in 1929, with its headquarters located at 798 Thomson Road, Singapore. Its territory included seven countries: Brunei Darussalam, Vietnam, Lao People's Democratic Republic, Malaysia, Singapore, and the kingdoms of Cambodia and Thailand.
On November 5, 2019, Southern Asia-Pacific Division's Executive Committee voted to divide the Southeast Asia Union Mission into two new unions and an attached field with the transfer process to be completed in December 2021.
Finally, it was approved to form the following unions: the Southeastern Asia Union Mission (SEUM), the Malaysian Union Mission (MAUM), and the reassignment of the Singapore Adventist Conference (SAC).
On the 5th of December 2022, the Malaysia Union Mission of Seventh-day Adventist held its inauguration ceremony in Seremban 2, Negeri Sembilan, Malaysia.