As the country celebrated its 66th anniversary of independence, the Southern Region Adventist Youth of Peninsular Malaysia Mission came together in a colourful fashion for an event called Paradise Point. The program occurred at a cozy restaurant café called Grumpy Goat and Friends Café last August 31. It was a resounding success, uniting almost 200 youth across the southern region for a day of fellowship, cultural awareness, and community engagement.
Paradise Point 2023 is an initiative that aims to bring together the southern region youths and young adults, allowing them to connect in a social and cultural context. Eight churches in the southern region participated in an event showcasing cultural diversity within the church. The program also demonstrated respect, acceptance, and inclusion through the musical and cultural presentations.
Brother Chan, the program organizer, shares, "It's been a while since we had a program that brought the members of the different churches in JB together. We want to come together in a social activity, but we also want to do something for our community. We hope that we can make ourselves known. This is a form of evangelism we can do in our region. We can slowly share more about Adventism when the community sees us through our activities. Now, they know us, and we can do more and share more."
Paradise Point 2023 was sponsored by PEM Youth Department, Klinik Yap & Partners Dato' Dr. Yap Ceong Cur, Alden Management, Dato' Winston See and Ms. Sheron Tan. On behalf of PEM Youth Ministries, I would like to give special thanks to JB Yew Seng Stationery for printing tickets, and Mr & Mrs. Sharon Ling of Grumpy Goat & Friends Forest Feast Café. We all enjoyed a comfortable space and delicious food. We also want to mention Ms. Eilee Tey from Mega Best (JB) SDN. BHD. for the appreciation plates.
Last but not least, I want to appreciate the following individuals and organizations for their support.
PEM President, Pr. Tan Meng Cheng
MAUM Youth Director, Elder Farrel Gara
PEM Education Superintendent, Pr. Maclan Matthew
CEO, Penang Adventist Hospital, Mr. Ronald Koh
CFO, Penang Adventist Hospital, Mr. Albin Phua Tuan Hui
PAH Marketing Manager, Mr. Caleb Lim
PAH Assistant Marketing Manager, Ms. Tean C.S.
Adventist Bakery Senior F&B Operations Manager, Ms. Tan Keat Nee
Adventist Bakery F&B Retail Manager, Ms. Huina Tioe
Mitsubishi Electric Sales Malaysia Sdn. Bhd. (Johor Bahru)
This event served as a testament to the commitment of Adventist youth in Peninsular Malaysia to make a difference in the world through faith, service, and fellowship.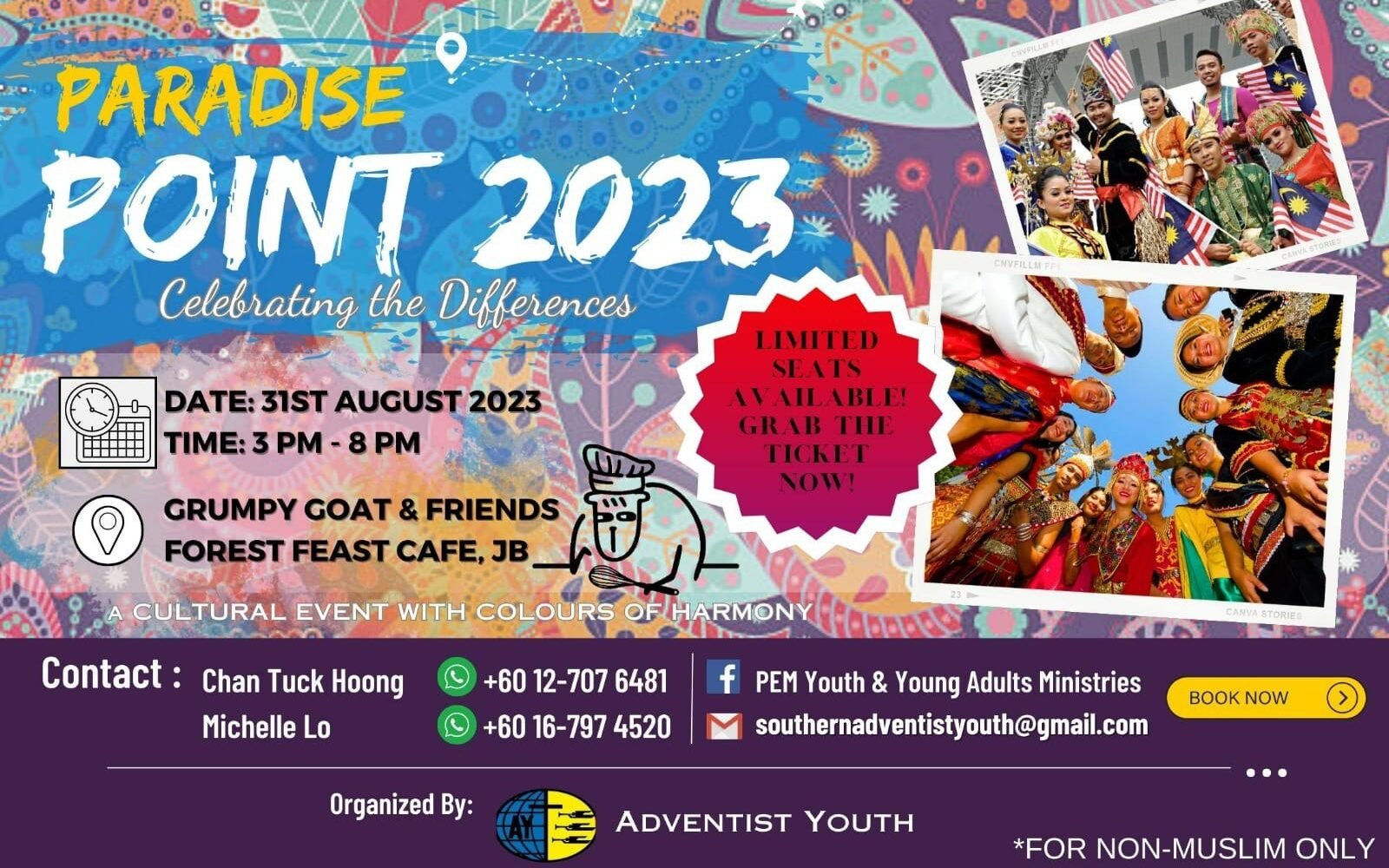 By Pr. Tan Weoi Siong, Youth Director of Peninsular Malaysia Mission
08, September 2023, Friday.